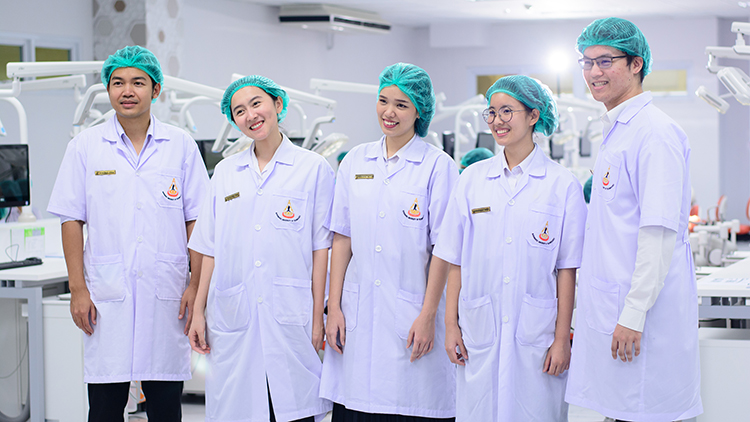 History
            Institute of Medicine, Suranaree University of Technology initiated a project to establish health science system in January 2538, which consisted of Institute of Medicine, Institute of Dentistry, Institute of Pharmacology, Institute of Nursing and SUT hospital. During the first phase of the project, only Institute of Medicince, Institute of Nursing and SUT hospital were formed in order to produce more medical, nursing and medical technology graduates to solve the profession scarcity issue. In 2540, Thailand faced an economic crisis and the project was forced to suspend for a time. Later on in 2557, dental undergraduate curriculum was proposed to the dental council of Thailand and was approved in April 9, 2558 so the Institute of Dentistry was finally established.
            The Institute of Dentistry initially constituted 5 faculty members and 30 first-generation dental students in 2558. The student acceptance is focused mainly on the Northeastern region especially Nakorn Ratchasrima, Chaiyaphum, Buriram and Surin provinces, but students from other regions are also welcomed. In addition, graduates possessing bachelor's degree in basic or health sciences are also welcomed and can begin their year of study starting at 2nd year of the curriculum.
The Institute of Dentistry, Suranaree University of Technology is the 11th dental school under the governmental supervision and the 13th dental school of Thailand.
Reports on quality and standard approval of the curriculum
               According to the criteria set by the dental council of Thailand, the curriculum needs to be assessed yearly until the first generation of dental students have graduated. Afterwards, the curriculum will be re-assessed every other 5 years. At the present, the dental curriculum of Suranaree University of Technology has been assessed and approved by the dental council as follows:
– The first assessment and approval in 2015 (academic year 2015)
– The second assessment and approval in 2016 (academic years 2016 and 2017)
– The third assessment and approval in 2018 (academic year 2018)


Note:
1. The second assessment and approval cover two consecutive academic years (2016 and 2017)
2. The third assessment and approval is under the process of obtaining official approva